Iyanla Vanzant is an inspirational speaker that promotes healthy relationships and wise thinking. She was named one of the 100 Most Influential Black Americans by Ebony magazine (2000).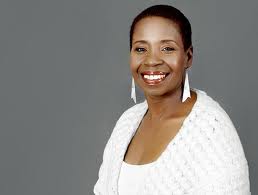 Below are the most inspirational quotes by Iyanla Vanzant about happiness and being happy, life, love and healing a breakdown in a relationship.
"Your willingness to look at your darkness is what empowers you to change."
"You have a right to your thoughts and feelings. Your feelings are always valid."
"One Day My Soul Just Opened Up."
"We are the only ones responsible for what goes on in our lives. We can make excuses, but we are responsible to and for ourselves."
Quote from her book In the Meantime: Finding Yourself and the Love You Want: "When you are not happy where you are, and you are not quite sure if you want to leave or how to leave, you are in the meantime. Its a state of limbo. You are hanging on, ready to let go, afraid to fall, not wanting to hurt yourself, afraid you will hurt someone else. In the meantime, you pray the other person will let go first so that you will not feel guilty."
"The key to success is not what you do, it is how you feel about what you are doing."
Quote about happiness: "Loving yourself means that you accept responsibility for your own development, growth and happiness."
"You must find the strength to open the wounds, stick your hands inside, pull out the core of the pain that is holding you in your past, the memories, and make peace with them."
Quotes about God and praying to the Lord: "When we pray, it opens our minds to the divine consciousness of God. Prayer opens your mind to answers that have always been present."
"Isn't it a shame that we don't remember as adults that we are always children of God."
About healing a breakdown in a relationship: "When we lose a loved one or end a long-term relationship, grief is natural. We must honor each stage of grief and emotion we have."
Quotes about forgiveness
About wiliness to forgive to each other: "Forgive everything! Forgiveness does not erase the memory of an experience, it neutralizes its impact."
Forgiveness frees us from the pain of the past and moves us beyond our mistakes in the future. What you give you get.
About being ignorant: "So many of us think that if we act like a thing doesn't exist, it will just go away. If we resist truth, we can only create pain."
Interesting facts about an amazing life of Dr. Iyanla Vanzant
Was born in Brooklyn, New York, as Ronda Eva Harris.
Her name Iyanla means "great mother" in Yoruba (Nigerian) culture.
Was born in the back of a taxi.
Her mother was an alcoholic.
By age 16, she was a teenage mother.
By age 21 she had 3 children and a physically abusive husband.
Iyanla Vanzant has had 2 suicide attempts.
She is a Yoruba priestess and an ordained New Thought minister.
She earned a law degree from Queens College in 1986.
Named one of the Most Influential Black Americans by Ebony magazine.
If you know more Iyanla Vanzant  quotes please post them in a comment section below.
God bless you!
[easyazon-block asin="0684848066″ align="none"]
[easyazon-block asin="1401928234″ align="none"]